---
About
Tactics.VR
Tactics.VR is a real-time sport analysis tool that allows presenters and guests to contribute in the analysis of plays and tactical schemes during live broadcasts.
The augmented reality system allows sports experts to interact with 3D environments to illustrate and enlighten spectators about the current match by virtually recreating the plays, providing a better understanding of the game and its rules.
A case of great success in Brazil, Tactics.VR has been widely used in broadcast transmissions by TV Globo, in events such as soccer championships, World Cup and the Olympics.

Schedule a Visit
Mirakulo is a TV Globo Partner. If you are interested in scheduling a visit to discuss Tactics.VR, please contact our sales department by sending an e-mail to: comercial@mirakulo.com
---
Key
Features
Interactive touchscreen environment
Support the main motion-tracking solutions in the market
Players and field elements in 3D
Animations reproduce game events, with easy-to-use interactions
Enable/Disable display of referee, teams and elements
Field can be inverted, viewed partially or moved over the screen
Draw graphics on the field: hands free, arrows, rectangles, circles and polygons that connect the players
Editor allows the creation of teams, players and uniforms
Sports


Soccer
Basketball
Handball
Swimming
Volleyball
Beach volleyball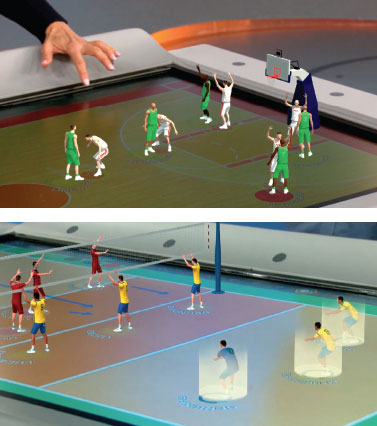 ---
Workflow
Diagram